Impact Day is much more than a festival – it's the largest and sexiest sustainability event in the region. Our mission is to showcase that great experiences and sustainability can walk hand in hand.
In this blog post, we'll take you behind the scenes, showing you how the team made Impact Day a benchmark in sustainability. If you've ever imagined how to make your events or daily life more sustainable, you're sure to find inspiration here. So, let's delve into the sustainability actions that formed the heart of Impact Day.
Sustainable Acting Starts from the Mindset
Making a true impact starts right from the core – it's all about mindset and communication within the team. For us at Impact Day, sustainability isn't a 'side gig' or something we do when we have a spare moment. It's our golden rule, the lens through which we view every decision we make.
When we're faced with a choice, we ask ourselves – does this match with our values? If there's any doubt, we skip it. This approach is the foundation of our festival. It's not always the easiest path, but it's the one that allows us to sleep soundly, knowing we're doing our best for our planet and people.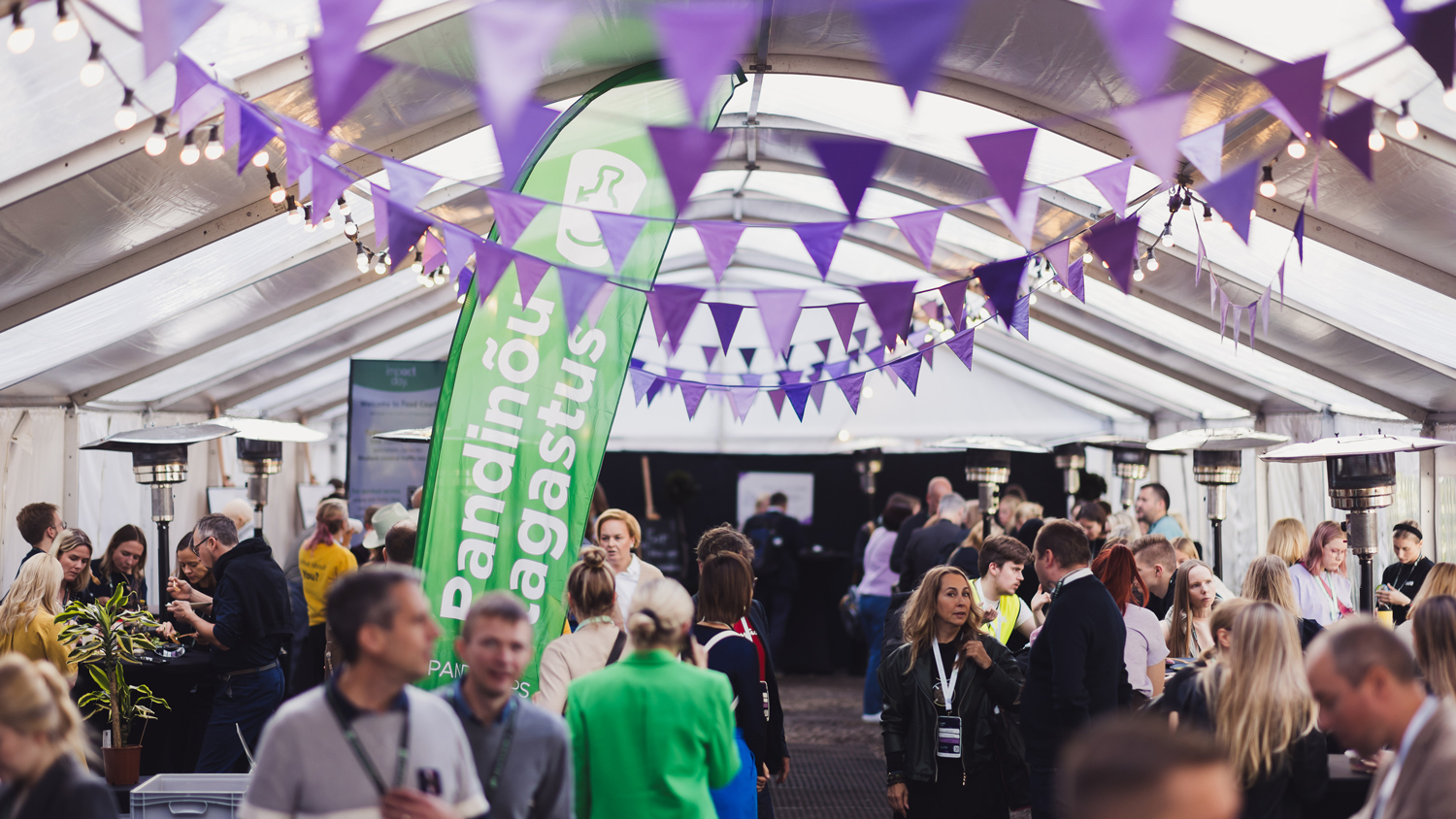 Sustainable in Environmental Perspective
At Impact Day, we believe in doing what matters. We want to make sure our festival doesn't just talk about sustainability, but also practices it. So, we made a list of everything we did to make our festival as green as possible:
1. Measuring the footprint: We worked with Planet Positive to understand our CO2 emissions.
2. Green Energy: All the energy used at the festival was green energy, certified by Eesti Energia.
3. Eco-heating: The energy-intensive heating was made green with NesteMY Renewable Diesel™, an alternative to fossil fuels.
4. Water Solution: We partnered with Tallinna Vesi to offer free tap water. No bottled water was sold!
5. Reusable Dishes: Panditops provided us with dishes and cutlery that can be used again.
6. Vegan Food: Our partner Fotografiska served only vegan food, they've even got a Green Star from Michelin! Additionally, we had agreements with onsite food offerers VLND Burger, Kopli Köök and Botik to offer vegan food and no alcohol during the festival.
7. Public Transport: We encouraged everyone to use public transport. We even arranged free public transport with the city of Tallinn!
8. Transport Discounts: We collaborated with LuxExpress, Tuul, Beast Tesla to provide discounts for greener travel options.
9. Extra Costs: We offered to cover any extra costs for using bus or ferry instead of plane.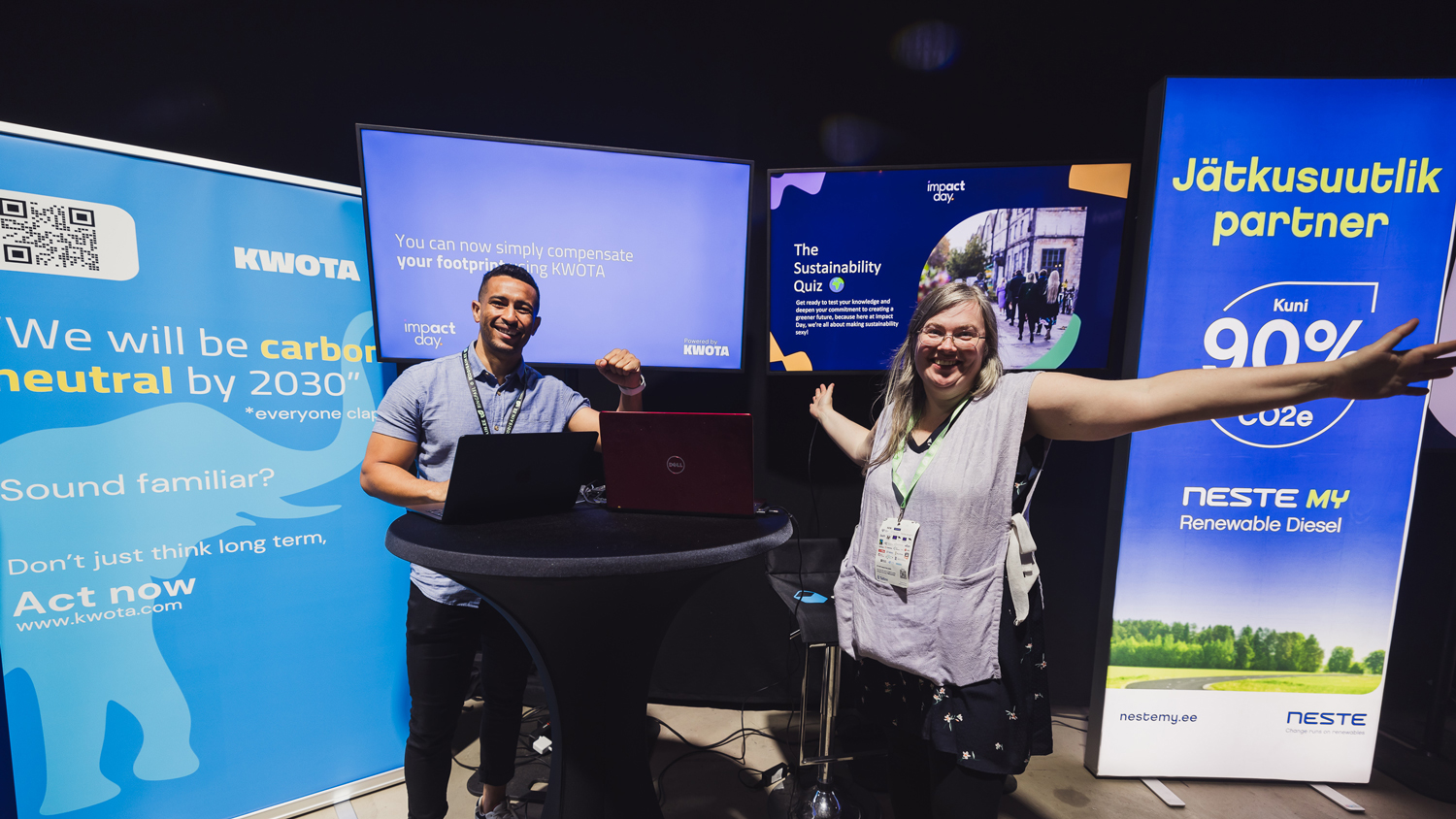 10. Footprint Compensation: Participants could compensate their transport footprint with Kwota.
11. Cigarette Cleanup: We collected all cigarette butts for processing by Filaret.
12. Waste Sorting: All trash was sorted into five categories.
13. Waste Monitoring: We used Wastelocker cameras to monitor our garbage bins.
14. Rent, not Buy: We rented decorations and lanyards. They've all been used several times before. Some examples:
1) For a second year in a row we used Kärr & Surr's flag chains made from recycled fabrics.
2) We rented plants from Hortes.
3) We collaborated with P H É R E who handcrafts decorations from plants found and harvested in the wild. Nothing new and disposable was created for us: everything is reused for other occasions as well.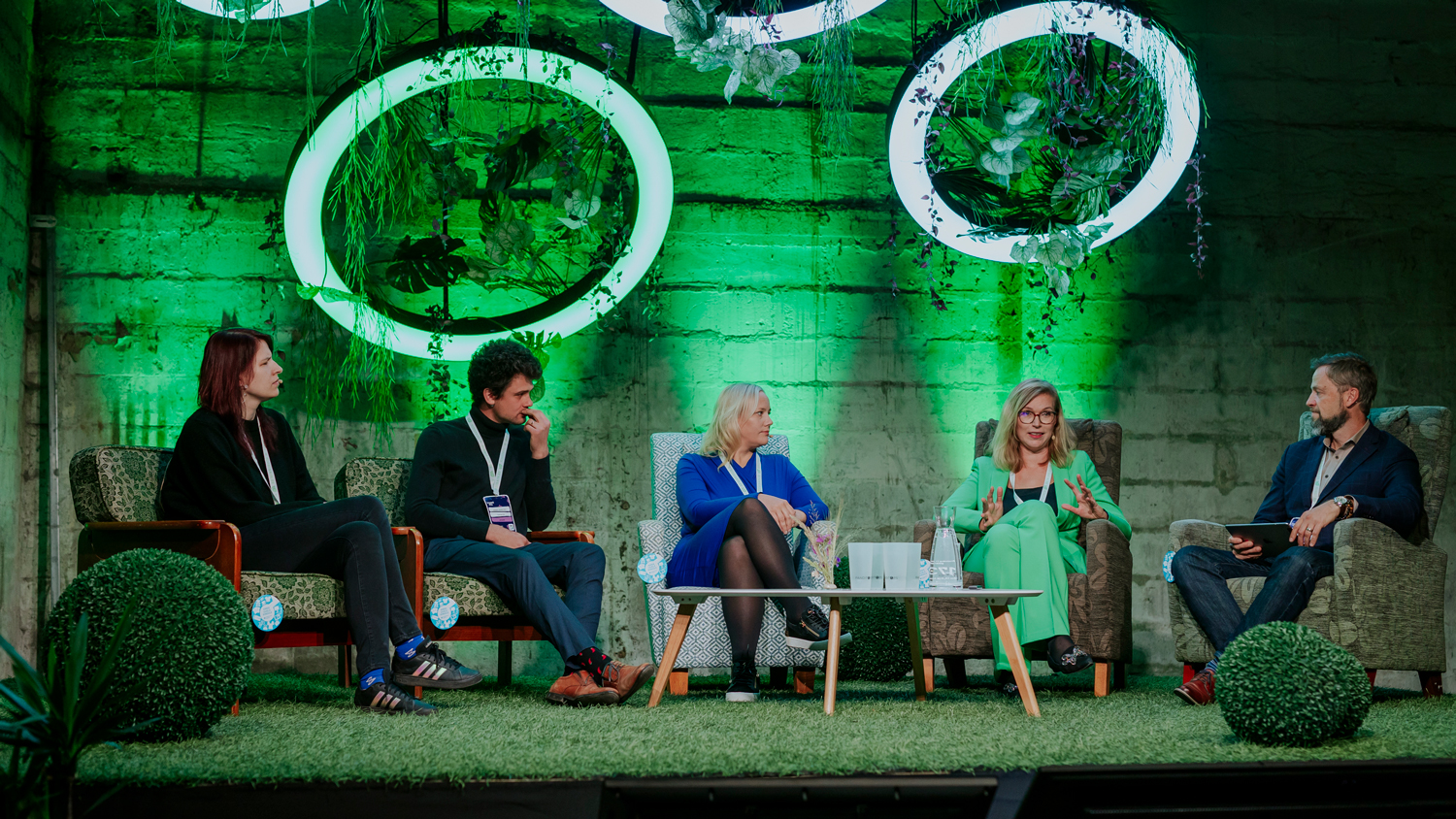 15. Second-Hand Furniture: We bought second-hand furniture from Uuskasutuskeskus for our stages and we will use them in the future at the festival as well.
16. Reusable Carpets: We made sure all our stage carpets can be used again and again.
17. Food Waste: Leftovers were shared among our team to make sure a minimal amount was wasted.
18. Eco-friendly Gifts: All performers had the option to choose whether they wanted or not their gift bag. All gifts provided by Ecodisain were environmentally friendly and practical.
19. Sustainable Partners: We made sure all our partners knew about our sustainability guidelines and followed them.
20. Green Accommodation: We partnered with Tallink Hotels, who have a Green Key label, for accommodation.
From planning to execution, our commitment to sustainability guided every decision, big or small. We hope our actions inspire you as much as they inspire us!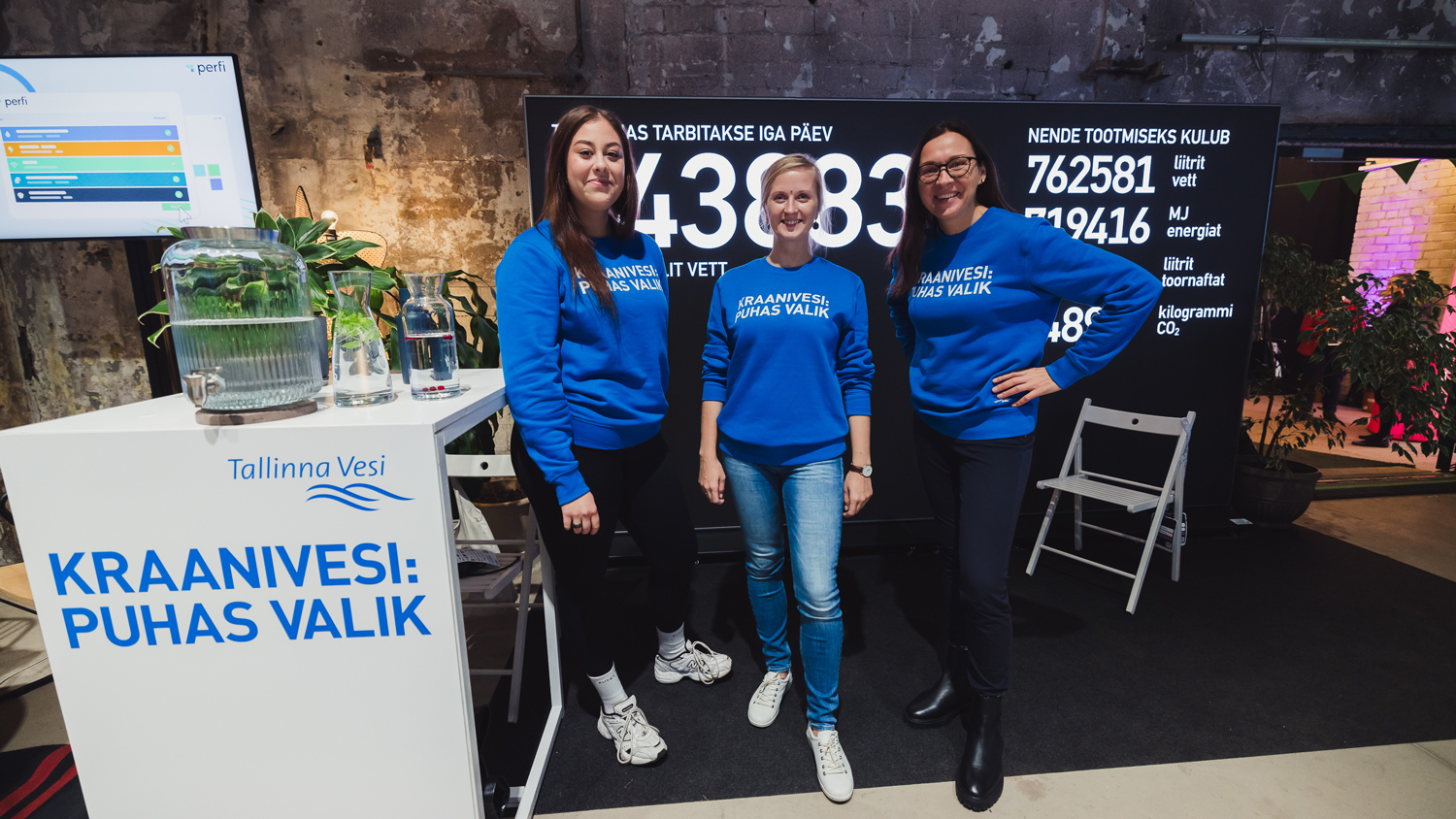 More Than Just the Environment: Social Impact
Here at Impact Day, sustainability goes beyond just caring for our planet. We also care about the people on it – that's why we made sure our festival was as inclusive and considerate as possible. Here are the steps we took to make our festival good for people too:
1. Gender Equality: According to preliminary data, ~53% of our speakers were women. Gender equality ensured!
2. Mental Wellbeing: Our team worked in morning and evening shifts, ensuring everyone could get at least 7 hours of sleep.
3. Mindfulness Breaks: Vaikuseminutid offered mindfulness breaks during the festival.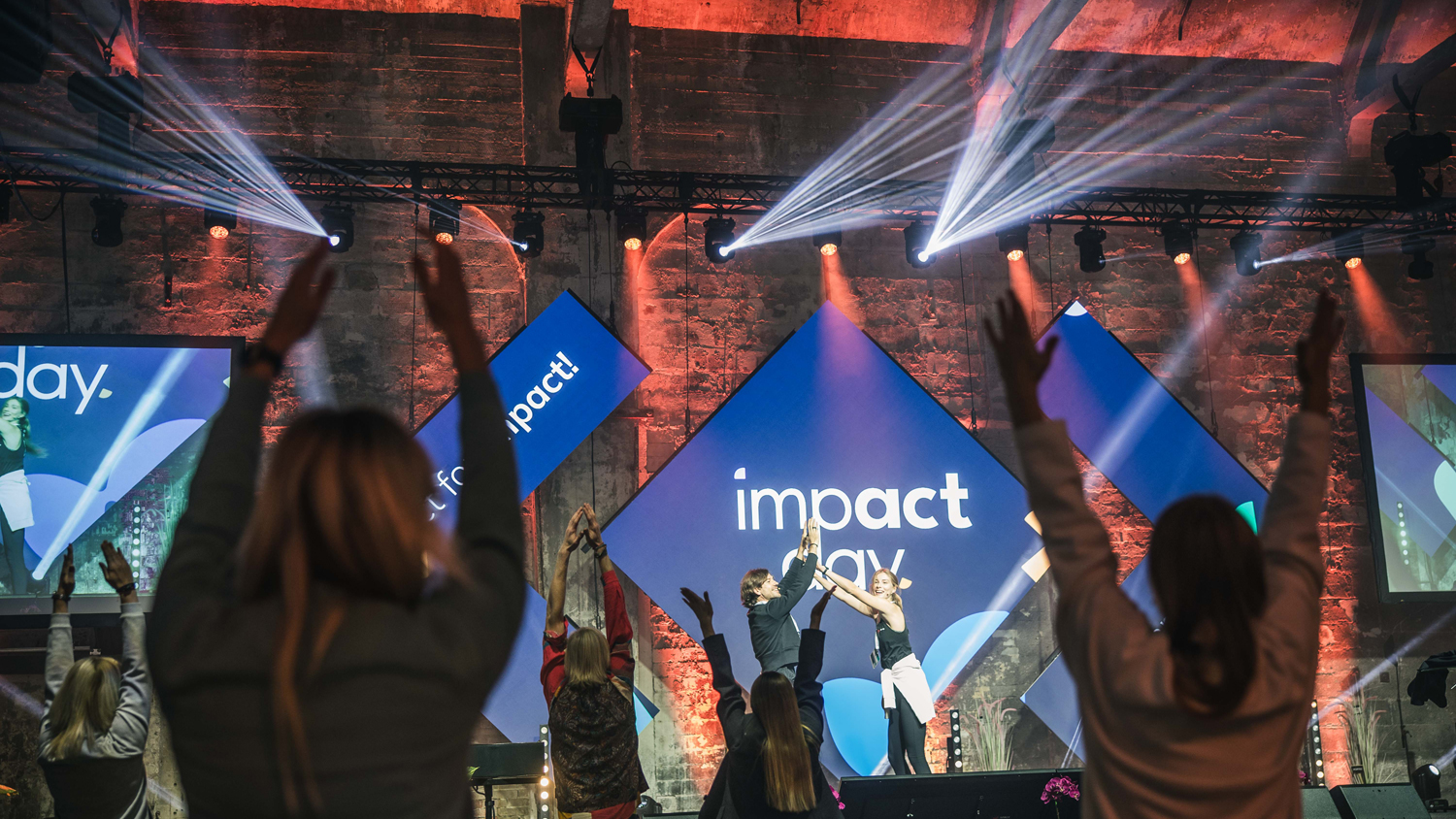 4. Movement Breaks: MyFitness offered movement breaks during the festival.
5. Alcohol-Free: We opted for a healthier option and no alcohol was served.
6. Discounts for Academia and NGOs: To promote diverse participation, we offered a -30% discount to academia and third sector organizations.
7. Local Talent: We supported Estonian artists – only local performers were showcased at the festival.
8. Diverse Volunteers: Over 15% of our volunteers originated or came from abroad.
9. Youth Involvement: 19 students from Narva Gymnasium volunteered and learnt about event management.
10. International Outreach: In partnership with Garage48, we enabled up to 100 Ukrainian entrepreneurs that have migrated to Estonia to watch festival recordings.
11. Website Accessibility: We analyzed and improved our website's accessibility. Have you noticed the change in colours?
12. On-Site Accessibility: We made improvements for people with disabilities, including a special WC. In addition, we included special instructions for volunteers about supporting them.
13. Inclusive Partners: Volunteers wore clothes made from 100% salvaged fabrics by V2GI, who included a Ukrainan war refugee and individuals with special needs from Hea Hoog and Randvere Tööõppekeskus in their production process.
14. Supporting Big Causes: All the sale made from coffee is donated to SOS Lasteküla from the collaboration with Paulig.
We wanted our festival to be a space for everyone, where diversity is celebrated and everyone feels welcomed. We hope our actions help make a difference, one step at a time.
Wrapping Up: Strength in Sustainability
We hope that you've found value in this peek behind the scenes of Impact Day. It's been a journey filled with decisions made with sustainability at the forefront, from the smallest details to the biggest plans. This post is just a snapshot of the work done to make Impact Day as green and as inclusive as possible.
You might be curious to know more about the tangible impact of all these efforts. Our team is currently gathering all the data to provide you with the complete picture. We will publish a comprehensive Impact Report packed with detailed statistics and insights in November.
Keep an eye out for that, and in the meantime, let's continue to strive for a sustainable future every day, in every way we can. Just like Impact Day, we can all make a difference.
If you're interested in learning more about how to plan and manage sustainable events, our team also offers consultations and workshops. Reach out to us to learn how you can create impactful, sustainable events that align with your values and contribute to a sustainable future. We'd be thrilled to share our insights and experiences with you. Let's make a positive impact together!