Impact Day takes place at Põhjala Factory (Marati 5, Tallinn) which is 10,5 km from Tallinn Airport, 8,4 km from the city's central bus station and 6,4 km from central railway station of Tallinn (Baltic Station).
STAGES
While the Impact Stage features engaging debates and pitches then on the Sustainability Stage you can develop your own skills and on the Inspiration Stage you can hear inspiring stories from influencers & impacters.
EXPO AREA
The Impact Day expo area is the Mecca of sustainability. Companies can gain new clients or cooperation partners by showcasing themselves among Baltic's 40+ impact or responsible businesses.
VIP LOUNGE
With a VIP ticket you can access to the backstage and have the possibility to meet privately with our TOP speakers.
***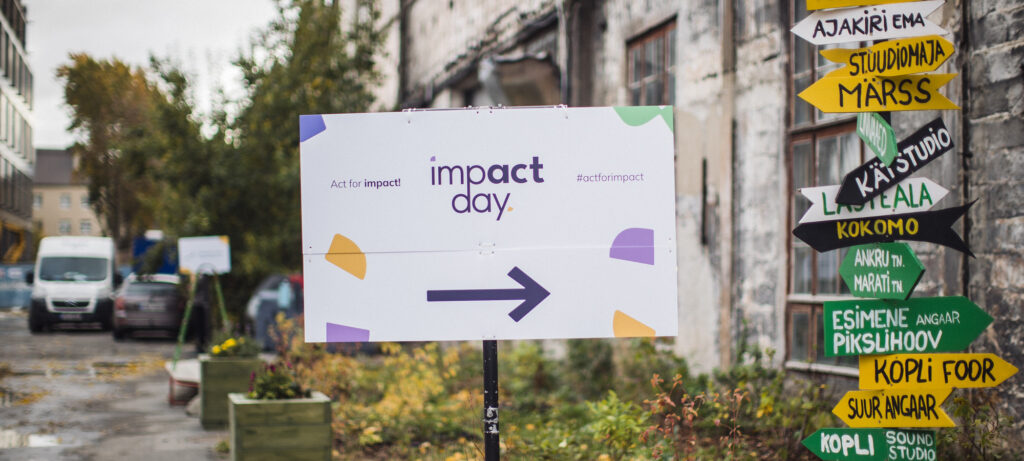 Põhjala has an awesome community where the future is in progress and history is being written.
Each studio, atelier, plant box in the city garden and volunteer supports the fragile ecosystem of the factory. We enjoy the time spent together, in co-creation, co-working and get-togethers that last 'till the morning light.
Hangar concerts, garden beds full of kale, vegan leather bags and so much more have found a home in here. The wild bushy garden bar surrounding the old tower was born from inspiration and has become an inspiration as well. Everything done in here is done after the face of the factory.
GREEN WEALTH
Põhjala allows the urban jungle to flourish, city chicken to fuss around and the buildings to age with dignity. Põhjala revives the old rubber noot factory, keeping its authenticity and atmosphere. Walk by our side and come for a visit by bicycle or tram!
TOMORROW
Those who walk here along the seaside promenade find themselves in modern Bullerby village, where everything they need is within reach. Children are enjoying themselves in the car-free courtyard, the baker reads your today's desire with just a glance.
TODAY'S HUSTLE AND BUSTLE
The factory is a place where everyone can fit in. Construction goes hand in hand with concerts and shows, stand up shows with markets and festivals. Those rushing to Botik meet with the muddy urban gardeners, lovers are snuggling around the corner.
More info about Põhjala Factory: https://www.pohjalatehas.ee/en/